Author Elizabeth Greenwood tells you everything you need to know about faking your own demise (don't).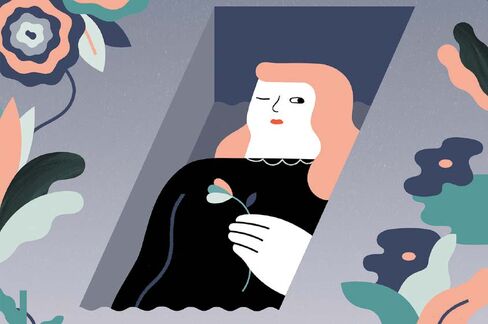 A few
years ago, as she delicately puts it, Elizabeth Greenwood decided that she had "screwed herself financially." Saddled with more than $100,000 in college debt, she joked to a friend over dinner that her plan was to become a "highly sought-after public intellectual" who would pay it off by giving TED Talks. If that failed, her friend said, Greenwood could always fake her own death and disappear to a tropical island. She was intrigued by the notion.
In her book, Playing Dead: A Journey Through the World of Death Fraud (Simon & Schuster; $26), Greenwood peels the lid off a cottage industry devoted to helping people vanish. She tracks down Frank Ahearn, a foulmouthed New Yorker who claims to have helped more than 50 people disappear, charging them about $30,000 apiece. She swills Coronas with Steve Rambam, a cynical investigator who chases death fakers in the Philippines, where you can rent a corpse and hire locals to stage a mock funeral as evidence of your untimely expiration. She travels to England to meet John Darwin, who faked a canoeing accident in 2002 and collected more than £280,000 (about $371,000 today) in insurance benefits; and to Los Angeles, where she visits a woman who goes by the name Pearl Jr. who's convinced that Michael Jackson faked his death and is now living secretly among us, waiting for the right moment to reveal himself. Greenwood also introduces us to people—and there are many—who pretended to die at the World Trade Center on Sept. 11 to scam charitable organizations.
The writer is generous with her subjects, letting them tell their stories and reveal their inner selves, however odious they turn out to be. By her own admission, she has something in common with them: She's running from her past, too. Greenwood grew up in Worcester, Mass., a working-class town she abandoned for California. "I knew I wanted to get as far away as possible from binge drinking, the cult of the Red Sox, and North Face fleeces," she writes. After acquiring a Valley girl accent, bleaching her hair blond, and purchasing cocktail dresses at Forever 21, she admits that she blends in with the con artists, braggarts, and other sketchy souls she encounters in the world of death fraud. She even goes shopping with one of her subjects, a California woman who was devastated to read a 2007 interview with her father, a crony of Andy Warhol's. As far as the woman had known, her dad had been dead since the early 1970s. He'd faked a heroin overdose, in part, to escape her.
The questions animating Playing Dead are ghoulishly existential. "How do you occupy your days in your second life?" Greenwood asks. "And can you even disappear in the twenty-first century, when every move is monitored, if not by the U.S. National Security Agency, then by closed-circuit TVs and drones, phones transmitting our coordinates, and obnoxious friends tagging us on Facebook?" This makes her wit that much more welcome. Toward the end of the book, however, she undergoes a tearful catharsis and decides that normal life isn't so bad after all. It's a bit maudlin and unconvincing for a writer who seems otherwise to take such pleasure in her quest. Maybe she's just exhausted after all the flights taken, beers quaffed, and cigarettes puffed along the way.
Writing a book as good as Playing Dead isn't easy, but perhaps it's less difficult than committing pseudocide. Few people seem to get away with it. After what must have been their umpteenth Corona together, Rambam, the investigator, shares this insight with the author: "Everybody I've caught on life insurance fraud, I tell them, 'If you put this type of effort, money, and dedication into your life as a law-abiding citizen, you would've made just as much money.' "